The Taxi is a vehicle you can rent from the garage that replaces your Van with a Taxi cab for 72 hours. The Taxi quadruples your earnings for jobs!
The Taxi is available in four different Promo Packs:
Cab Fare: 1 Taxi cab
Mystery Cab: 1 Taxi cab & 75 Mystery Seeds
Gassed up Cab: 1 Taxi cab & 275 Guano
Cash Cab: 1 Taxi cab & 750 Potbucks
Once you purchase a Cab promo, you can then activate it in your garage.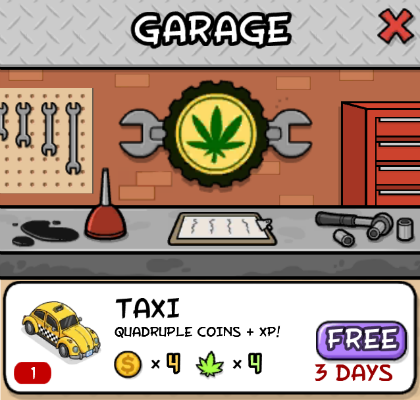 For each job completed on the Job Board while you have the Taxi active, you get 4x the Coins and 4x the Experience gained per job!
When the timer for the Taxi runs out, your Van will return and you will see your total Coins and XP bonus earned while you had the Taxi.
NOTE: Your extra earnings are added to your account at the time of each job completion, so the total that shows at the end of your rental is display only.
Be sure to check out the Promos section in the Store to see if there is a Taxi cab promo available today!